BIO-key Launches Compact USB Fingerprint Reader "EcoID" for Broad, Lower Cost Deployment, at connect:ID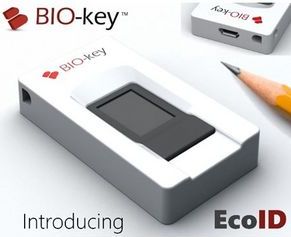 WASHINGTON, DC--(Marketwired - Mar 23, 2015) - BIO-key International, Inc. (OTCQB: BKYI), a leader in fingerprint biometric software technologies for secure on-device, in-cloud or mobile device credentialing and identity verification solutions, will introduce EcoID, a compact USB touch fingerprint reader, at the connect:ID convention March 23rd - 25th at the Walter E Washington Convention Center, Washington, D.C. (Booth #204).
EcoID is a compact USB touch fingerprint reader pairing the Active Thermal™ sensor from NEXT Biometrics with the superior accuracy of BIO-key's biometric algorithms and software, to deliver top quality at an unprecedented price point. EcoID delivers one-touch identification and strong authentication for existing BIO-key customers, as well as any entity seeking to add low-cost, high performance fingerprint authentication to their existing Windows or Android devices, supporting both Microsoft Windows Biometric Framework (WBF) and upcoming FIDO support. The sleek, low profile form factor is highly portable, fitting easily into a purse or pocket, and features a lanyard/security cable pass-through for secure commercial applications.
EcoID aims to disrupt the touch fingerprint reader market with an MSRP of $34.99, substantially below other USB touch scanners. EcoID is available immediately, direct from BIO-key and through select distribution partners.
Perfect Companion to Windows, Microsoft Hello™ and Passport™
Microsoft has incorporated enhanced integrated fingerprint biometric security features in Windows 10 with their Microsoft Hello™ and Passport solutions. EcoID enables users to leverage this capability in workstations that currently lack them. EcoID joins BIO-key's SideSwipe™ tablet and laptop-ready scanner as an outstanding low cost option for adding fingerprint security to workstation or mobile devices and is plug-and-play ready for WBF as well as Android.
"BIO-key recognized that our banking, retail, and consumer-facing customers struggled to source a low-cost, high quality fingerprint scanner to pair with our biometric identity assurance platform," says Jim Sullivan, BIO-key Vice President of Strategy and Business Development. "Recent acquisitions of fingerprint scanner manufacturers by Apple, Synaptics, Qualcomm and HID has created a void of quality, reasonably priced USB touch scanners. In collaboration with NEXT Biometrics, we developed a great scanner with unlimited applications at a terrific price. We think this lower cost solution could provide an ROI tipping point for accelerated adoption of biometrics versus other strong authentication options."
"NEXT is delighted to provide a key component of this exciting new BIO-key device," says NEXT Biometrics CEO Tore Etholm-Idsøe. "BIO-key has a history of providing transformational software capabilities to the commercial identity marketplace, and they have set a high standard for large scale commercial biometric use, in terms of one-to-many search, accuracy and device flexibility. Their innovation and customer orientation have enabled another solution breakthrough with EcoID. We are very pleased they chose NEXT to help them achieve this ambitious price-performance target."
About BIO-key®
BIO-key International, Inc., headquartered in Wall, New Jersey, develops and delivers advanced identification solutions to commercial and government enterprises, integrators, and custom application developers. BIO-key's award winning, high performance, scalable, cost-effective and easy-to-deploy biometric finger identification technology accurately identifies and authenticates users of wireless and enterprise applications. Our solutions are used in local embedded OEM products as well as some of the world's largest identification deployments to improve security, guarantee identity, and help reduce identity theft. BIO-key's technology is offered directly or by market leading partners around the world. (http://www.bio-key.com)
About NEXT Biometrics
Enabled by its patented NEXT Active Thermal principle, NEXT offers high quality area fingerprint sensors at a fraction of the prices of comparable competitors. A wide range of product formats including Smartphones, Tablets, PC's, Doors, Time registration systems, Wearables, Payment terminals, Flashdrives, USB-tokens, Key fobs and many more are targeted. NEXT BIOMETRICS GROUP ASA is a publicly listed company headquartered in Oslo, Norway, with sales, support and development subsidiaries in Seattle, Silicon Valley, Taipei, Prague and Shanghai. (NEXT.OAX)
BIO-key Safe Harbor Statement
Certain statements contained in this press release and in other public statements by the Company and Company officers include or may contain certain forward-looking statements. All statements other than statements of historical facts contained in this press release, including statements regarding our future financial position, business strategy and plans and objectives of management for future operations, are forward-looking statements. The words "anticipate," "believe," "estimate," "will," "may," "future," "plan," "intend" and "expect" and similar expressions generally identify forward-looking statements. These forward-looking statements are not guarantees and are subject to known and unknown risks, uncertainties and assumptions that may cause our actual results, levels of activity, performance or achievements to be materially different from any future results, levels of activity, performance or achievements expressed or implied by such forward-looking statements. Although we believe that our plans, intentions and expectations reflected in the forward-looking statements are reasonable, we cannot be sure that they will be achieved. Particular uncertainties that could cause our actual results to be materially different than those expressed in our forward-looking statements include: our history of losses and limited revenue; our ability to raise additional capital; our ability to protect our intellectual property; changes in business conditions; changes in our sales strategy and product development plans; changes in the marketplace; continued services of our executive management team; security breaches; competition between us and other companies in the biometric technology industry; market acceptance of biometric products generally and our products under development; delays in the development of products and statements of assumption underlying any of the foregoing, as well as other factors set forth under the caption "Risk Factors" in our Annual Report on Form 10-K for the year ended December 31, 2013 filed with the Securities and Exchange Commission. All subsequent written and oral forward-looking statements attributable to us, or persons acting on our behalf, are expressly qualified in their entirety by the foregoing. Except as required by law, we undertake no obligation to update or revise any forward-looking statement, whether as a result of new information, future events or otherwise.
Investor & Media contacts:
BIO-key International:
David Collins
Catalyst Global
212 924 9800
email Cette adresse e-mail est protégée contre les robots spammeurs. Vous devez activer le JavaScript pour la visualiser.
NEXT:
Tore Etholm-Idsoe
CEO
mob + 47 922 32 439
e-mail Cette adresse e-mail est protégée contre les robots spammeurs. Vous devez activer le JavaScript pour la visualiser.
Knut Stalen
CFO
mob + 47 920 43 458
e-mail Cette adresse e-mail est protégée contre les robots spammeurs. Vous devez activer le JavaScript pour la visualiser.