New SmartGates have open at Dubai International Airport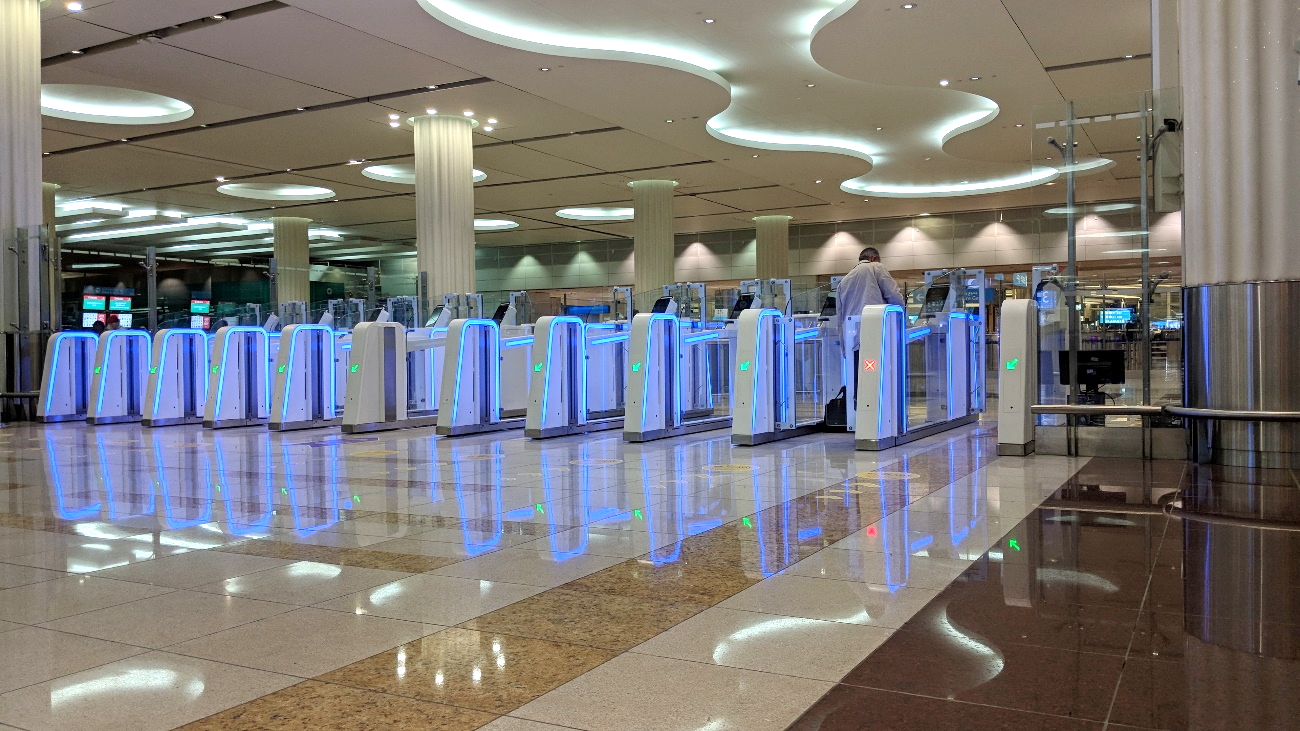 The pioneering SmartGates project was designed by Vision-Box and partner Emaratech to offer a unique passenger experience, speed up passport control and optimize the entire border control operation.
Dubai, February 25th, 2017 – The inauguration of the new experience at arrivals at Dubai International Airport coincided with UAE's Month of Innovation. The roll out of the latest generation of Automated Border Control SmartGates has gone live this month as part of a transformation program which aims at offering passengers a state-of-the art Border Control experience as well as enhancing the immigration security process.
The General Directorate of Residency and Foreigners Affairs (GDRFA) from Dubai awarded the challenge to Emaratech and partner Vision-Box. This ground-breaking project includes the development, delivery and maintenance of a new generation of multimodal biometric passenger flow solution comprising 122 SmartGates, deployed across all three Dubai International Airport terminals.
The SmartGates are able to expedite passenger clearance at Dubai Airports' borders, offering a speedy self-service transaction by way of multi-biometric verification, sustained by passport, Emirates ID and SmartGate cards authentication.
Brigadier General Talal Al Shanqiti, Assistant Director General for Ports Affairs at the GDRFA in Dubai, said "The installation of the new smart gates in Terminal 1 arrivals area is part of an integrated development project to provide passengers with facilities and services that make their travel through Dubai International a quick and easy. Passport control is a critical process as part of which maintaining a high level of security is our top priority. This new system helps us strike a balance between achieving that objective while also ensuring a better experience for the passengers through speed and efficiency."
In addition to the enhancement of the departure procedures with new SmartGates last year, a new bank is already in operation at arrivals, offering passengers a speedy border clearance.
The new SmartGates exhibit a stunning, exclusive design, remarkable ergonomics and attention to detail, perfectly fitting and adding on to the airport's carefully thought interiors. A renewed clearance experience, featuring a passenger-centric interface with proactive adjustments and new smart-led guidance, centralizes all operations inside the SmartGates.
According to Miguel Leitmann, CEO at Vision-Box, «As expected, the project shows incredible pioneering character and forward-thinking attitude. It's a perfect combination between a robust border control strategy and orientation to service excellence. It brings together state-of-the-art border security technology, the most modern human-machine interaction and a magnificent design. We are happy to provide such a top-notch experience for passengers travelling through Dubai and to be trusted by GDRFA and Emaratech for this cutting-edge project.»
The project further includes the introduction of SmartGates at the Dubai World Central – Al Maktoum International Airport.